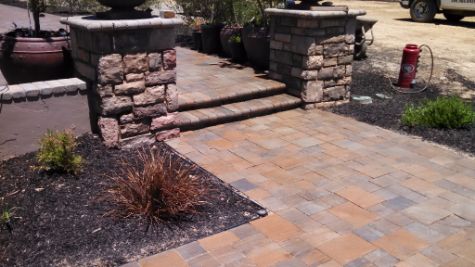 Do you love the look of natural stone and want to use it for creating walls and other features in your property? Do you find the price of natural stone too high for your budget? If yes, you can quickly get the same luxurious feel of natural stone in your property by opting for a stone veneer. It is not a structure made of stone but of brick and cement with stone cladding covering it on the outside.
However, you need a top-notch masonry contractor with experience in stone veneer to complete the high-quality job in your property. Cerritos Pro Concrete is a top-rated and much loved concrete contractor, having built many structures in stone veneer for its clients.
Call us at (562) 262-5777 to get an instant free quote for the Cerritos stone veneer project on your premises.
Enhance the Value of Your Property With Stone Veneer
Stone is a construction material that not only looks beautiful; it is also natural and gives a rustic feel to the property. You can save money and still get that luxurious feel to your property if you ask the contractor to apply stone cladding to some of your walls in the outdoors. The wall gets covered with a thin film of stone to give the impression of being a stone structure. It will beautify your home and enhance its value to fetch a higher sale price if you decide to sell it in the future. As such, it is better to take stone cladding as an investment into your property rather than as expenditure.
Expert Installation of Stone Veneer
The stone veneer should not be overused at all the places in a property despite its elegance and magnificence. This is because too much use of stone cladding makes the area look overcrowded and loses the charm of natural stone. As a seasoned contractor, Cerritos Pro Concrete can give invaluable advice on where and how much to use stone cladding to provide an exquisite look to your property. This way, we help our clients in saving their hard-earned money while turning their dream into reality.
Long-lasting Protection from Elements
One significant advantage of stone cladding that is hardly noticed by homeowners is the protection that their walls exposed to the components get. There is no wear and tear of the wall that has a thin coating of stone, and intense heat and rain have no impact on it. You can wash your walls covered with veneer whenever you so desire to make them clean and looking like new.
Stone cladding is way cheaper than natural stone, but it recreates the same magical look. It is lightweight, not creating any extra pressure or weight on the walls. If you are interested in a stone veneer, what you need is a contractor having tons of experience in its installation.
Call us, Cerritos Pro Concrete, today at (562) 262-5777 to get answers to all your queries regarding stone cladding.
We can complete the cladding project in your property in high quality at the most affordable prices.