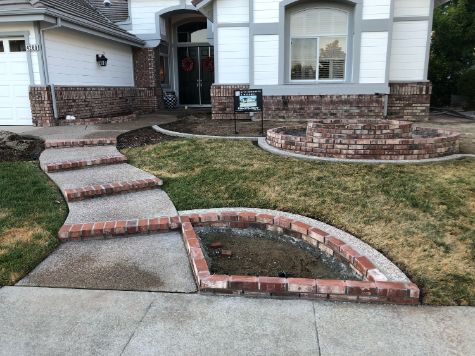 If you are planning to add a new feature in your property for outdoor living or want to repair stairs, walls, or the patio, you need the services of a masonry contractor. Cerritos Pro Concrete is a trendy and much-loved concrete and masonry contractor trusted by homeowners for high quality and long-lasting structures. We use only the highest quality materials and excellent craftsmanship to carry out brick masonry work on our clients.
Call us at (562) 262-5777 to get a free quote on your premises for the masonry project.
Best Value of Money for Brick Masonry
At Cerritos Pro Concrete, we have carved a niche for ourselves as a high-quality masonry contractor that provides excellent quality service at reasonable prices. Our customers rely on our ability to carry out the masonry project on their premises in high quality and quick time. The structures created by our masons are strong, resistant to moisture, and very durable. Value for their money and high quality are two reasons why our customers keep coming back to us with their new projects. They also bring a lot of business through referrals.
Functional and Aesthetically Pleasing Brick Masonry
Brick masonry looks easy to an outsider with the mason merely placing one brick over another along with cement mixture to create a wall or platform. But the difference between an ordinary mason and an experienced one becomes evident soon after the completion of the job. You don't have to wait for months to see the cracks and wear and tear in the wall or the platform made of bricks.
The difference in quality is evident in the proper installation and the visual appeal of the structure. Of course, the structure stays like new for a long time to come with very little or no maintenance required on the part of the customer.
No Compromise on the Artistry
Some masonry contractors quote low prices to get the project form the customer. They make compromises with quality by using inferior quality construction materials. To avoid disappointment with brick masonry received by your contractor, it is essential to hand over the contract to someone you know or one who has a solid reputation for quality in this industry. At Cerritos Pro Concrete, we treat every project as equal despite its size and nature. With attention to the minutest of details, we ensure the highest quality of artistry to bring total satisfaction to all our customers.
If you need a brick masonry contractor in Cerritos, you can have complete faith upon, and there is no company better than Cerritos Pro Concrete for you. Once the customer has explained to our masons what they want, we don't require his presence on the site to ensure quality construction.
Call us today at (562) 262-5777 to schedule a visit by our representative to your premises to discuss the brick masonry project in your property. We can complete your project in high quality to your satisfaction at very reasonable prices.