Cerritos Pro Concrete Services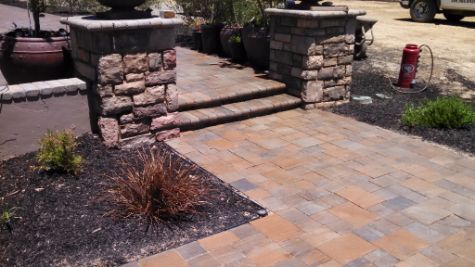 As a gateway city, Cerritos knows a thing or two about bridging the gap between strengths and sought after applicability with a friendly, well-organized presentation. One call to Cerritos Pro Concrete gets you more of the same.
Dial (562) 262-5777 to get free quotes from our expert concrete team.
Not only do we offer the finest construction in concrete, brick, and natural stone, but you're going to find a professional attitude than runs deeper than any veneer. Our certified team will take down all the information they need while answering any questions of your own. We do jobs indoors or out, large or small. These include countertops, patios, flooring, driveways, and pool decks.
Give us a call today at (562) 262-5777 to turn that idea of yours into reality. 
Concrete
Make just about anything happen with the versatility of concrete. Since 1890, contractors have been coloring and staining this composite material to the wishes of their clients. Around 1950, experiments with concrete stamping were moving full steam ahead. Tools were invented to create complex patterns. Exposed aggregate surfaces also became popular, with their crystalline, slip-resistant texture adding yet another look to this already multi-faceted material.
Today Cerritos Pro Concrete uses modern techniques to achieve all of these plus lots more. Our stained concrete looks deep and rich as pure marble. With stamped concrete, we can give you the look of just about any kind of natural stone, brick, or even wood. Not interested in being decorative? We'll keep things clean and simple with concrete slabs poured directly on site. Driveways, patios, outdoor fireplaces, pool decks, and kitchen countertops are just the beginning of what we offer in Cerritos concrete construction. Hit us up to get things rolling. 
Brick
Brick is an acquired taste our clients pursue after seeing its effects on other projects we've handled. You'll get a handsome, old-time colonial look from our retaining walls, stairs, fireplaces, and even pool coping. In fact brick works great for pool coping, as it's porous and won't let you slip. We can also attach a thinner layer of brick veneer to a concrete backing, or create walk-paths and other horizontal surfaces with brick pavers.
We lay courses in almost any bond type that appeals to you, or compliments the environment in question. Our brick walls or retaining walls are not only sturdy and strong, but look positively dashing in the bargain. To find out even more about what we can do with brick, contact us today.
Natural Stone
Allurement and longevity in hardscape construction reaches its pinnacle with natural stone. At Cerritos Pro Concrete we show you these heights with material such as limestone, travertine, marble, granite, and cobblestone. In fact, anything we build with concrete or brick, we can also do with natural stone. Clients love our granite kitchen countertops—they're tougher than Formica and scratch resistant, too. Travertine pool decks are not only quite beautiful, but offer a stable walking surface for wet feet. Then come our stone columns using veneer or stacked stone. All of these and more we can bring to your home. 
Cerritos Pro Concrete is where you can find the best in concrete, brick, and natural stone construction. Call us for a free estimate at (562) 262-5777.
Quality Concrete and Masonry Services in Cerritos, CA
We, at Cerritos Pro Concrete provides excellent concrete and masonry service for residential and commercial clients. Our experts in concrete team offers the following:
We also provide excellent concrete contractor and masonry contractor services at:
To get free estimates, dial (562) 262-5777 today and our expert concrete and masonry contractors will get back to you.