Cerritos Stained Concrete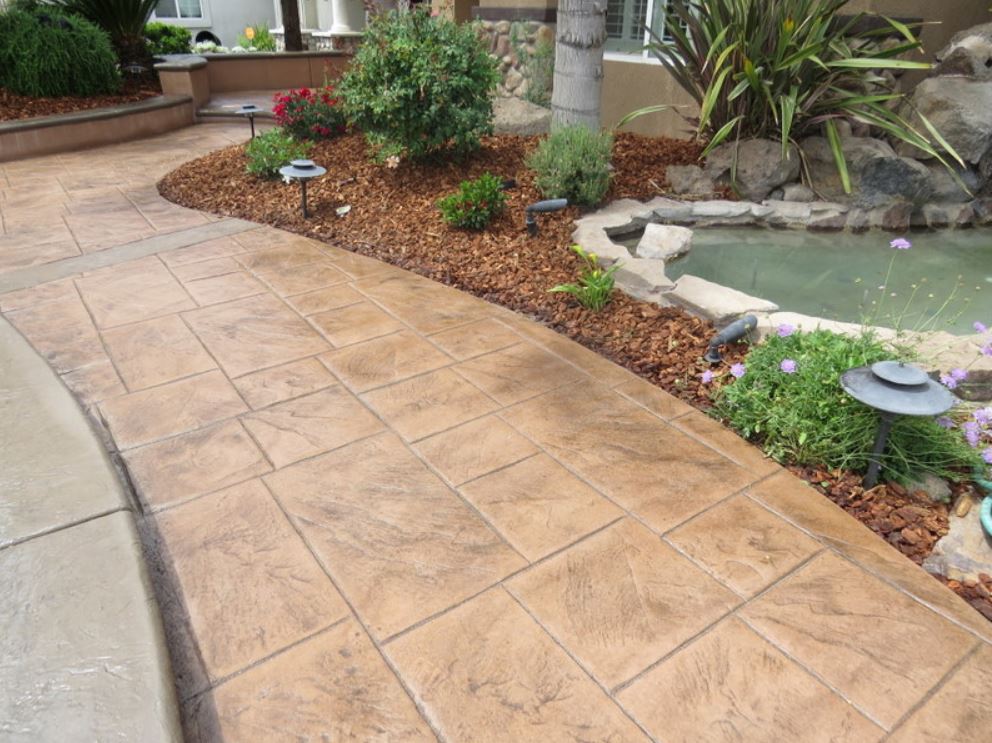 Durability, cost, and strength are some of the reasons why concrete has been around for long and is still a popular choice. Beauty is another major reason why people prefer concrete floors, walkways, and patios. The endless design options make concrete a good choice for building. Staining is one of the many design options that can beautify your concrete surfaces. With a concrete contractor who knows what to do, your concrete surfaces will be left stunning.
Concrete staining is just one of the many concrete services we offer at Cerritos Pro Concrete. Give us a call today at (562) 262-5777 and get the best staining services in Cerritos. Concrete staining will require an expert if it has to be done without any flaws. This is where experience counts, and the only right decision is to hire an expert like us to stain your floor.
At Cerritos Pro Concrete, we excel when it comes to offering quality concrete services. We are the contractor near you, and when you need urgent concrete staining, just call us, and we will be there. Let us stain your concrete at a very affordable price and help you spend less. We are a caring contractor who has got your back right before you start your project. We can help you plan properly by giving you a free estimate for your project.
Looking for the most reliable concrete stained contractor in Cerritos? Dial (562) 262-5777 now to get the best deal and free estimates.
All You Need to Know About Stained Concrete
There is a lot you are supposed to know as a homeowner when it comes to concrete staining. Here are some of the things you ought to know that will help you properly improve your home. Give us a call at Cerritos Pro, Concrete, if you need professionals that will handle your concrete works.
Stained Concrete Doesn't Fade
One of the things that worry home and property owners is whether the decorative color achieved on concrete surfaces can last. If you are going for stained concrete, you can be sure to have that stunning tone for years. By penetrating through concrete stains can't fade even if they are used on outdoor surfaces. Hire us today for staining and other concrete works and be sure of professionally stained surfaces.
The only way to be sure your stained concrete will withstand fading is having us stain it. We are a highly experienced contractor, and we use the latest technology and equipment to ensure flawless staining. Call us today at (562) 262-5777, and our experts will be there in time to stain your surfaces.
Has Low Maintenance Costs
When it comes to maintenance costs, stained concrete won't disappoint. It will require little maintenance, which won't cost a lot. With staining being an affordable option that is still cheaper to maintain, there is no reason why you shouldn't go for it. Sealing will help your stained concrete surface last longer. If you need a concrete contractor with pocket-friendly services, dial (562) 262-5777 today, and we will give you those services.
Concrete Staining Should Be Left to Professionals
Many property owners think concrete staining is an easy self-reliant project until they do it wrong. Experts like us know how to properly stain your concrete so that it can achieve a stunning translucent tone. Staining isn't just about applying the stains on your concrete. The evaluation must be done by an expert to determine the right stain for your concrete. With self-reliant work, you can't possibly evaluate and prepare your concrete for the right type of stain.
You should let us at Cerritos Pro Concrete stain your concrete floors because you most probably lack the right tools. One of the biggest flaws with self-reliant work is that you are allowed to use "locally" available tools as a substitute for recommended tools and machinery. Once done with improvised tools, your concrete won't be perfect; hence you won't even notice the lavish look you were expecting. Get in touch with us today at Cerritos Pro Concrete for affordable expert help.