Cerritos Stamped Driveway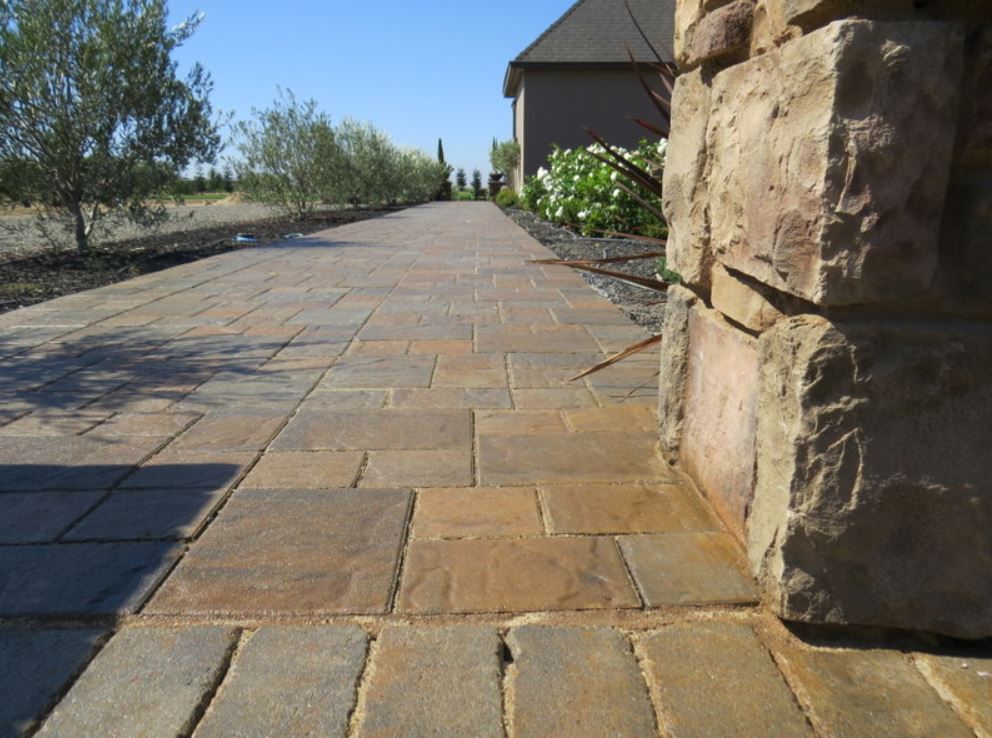 Concrete is the best material for constructing a driveway simply because of its immense strength and longevity. Concrete in a certain thickness can easily take a load of automobiles driving over it without any wear and tear. Such a driveway requires little maintenance, and it gives a rich look and feels to the property. However, if you do not like the idea of a dark grey concrete driveway in your property, Cerritos Pro Concrete has the solution for your concern!
We are the most popular concrete contractors in the area and also the one highly trusted by the customers as far as stamped concrete driveways are concerned. To get a free quote for your stamped driveway in Cerritos, just dial (562) 262-5777. As simple as that!
What is a Stamped Driveway?
A stamped driveway is a structure made of concrete but in a different way. The addition of a base color creates the first decorative concrete. Later, another color/colors are added to the concrete pre mix to give the surface required accent. Finally, after this concrete has been poured to create the surface, stamping is done to transform the way it looks.
The stamped driveway has become very popular among the homeowners because of the cost-effectiveness and the manner in which it can recreate the look of expensive construction materials. It means that you can hope to have a driveway that looks natural, flagstone, tile, or even wood though it is nothing else but concrete. 
Pros of a Stamped Driveway
There are many reasons why clients say yes to stamped driveways: 
Cost-effective
A driveway made of concrete is the most cost-effective driveway. If the customer desires natural stone for his driveway, he has to shell out money many times more than what is required for a stamped driveway, which looks exactly the same. It means that he can enjoy the look and feel of a material of his choice at a fraction of the cost the original material incurs.
Longevity
Despite their high cost, driveways made using natural stone or any other material may last just as much long as a concrete driveway does. The stamping technique makes it possible for the homeowner to enjoy a driveway with an expensive look and feel, which is also durable as the strongest of the materials. 
Wide Variety of Options
The technique of stamping has created a world of opportunities for homeowners in terms of the driveway. They can now ask to get a driveway that looks like having been made from a very expensive material. It is this versatility of stamped concrete that makes it so popular among homeowners. No matter what your dreams are about the driveway in your home, stamping can help realize those dreams into reality without spending a lot of money. 
At Cerritos Pro Concrete, we have a team of highly skilled craftsmen and masons who have complete decorative concrete and stamped concrete. If you do not like concrete but remain fascinated with other construction materials, we can create the color and texture you are interested in with concrete using the stamping technique. You get colorful concrete and artistic designs that are good enough to make your driveway look like a piece of art.
Call Cerritos Pro Concrete at (562) 262-5777 to book a visit with one of our stamped driveway experts to your property today! You can seek answers to all your queries about stamped concrete during your meeting with our professionals. We can help you get a new concrete driveway that looks like a natural stone or tile depending upon your liking at an affordable price!