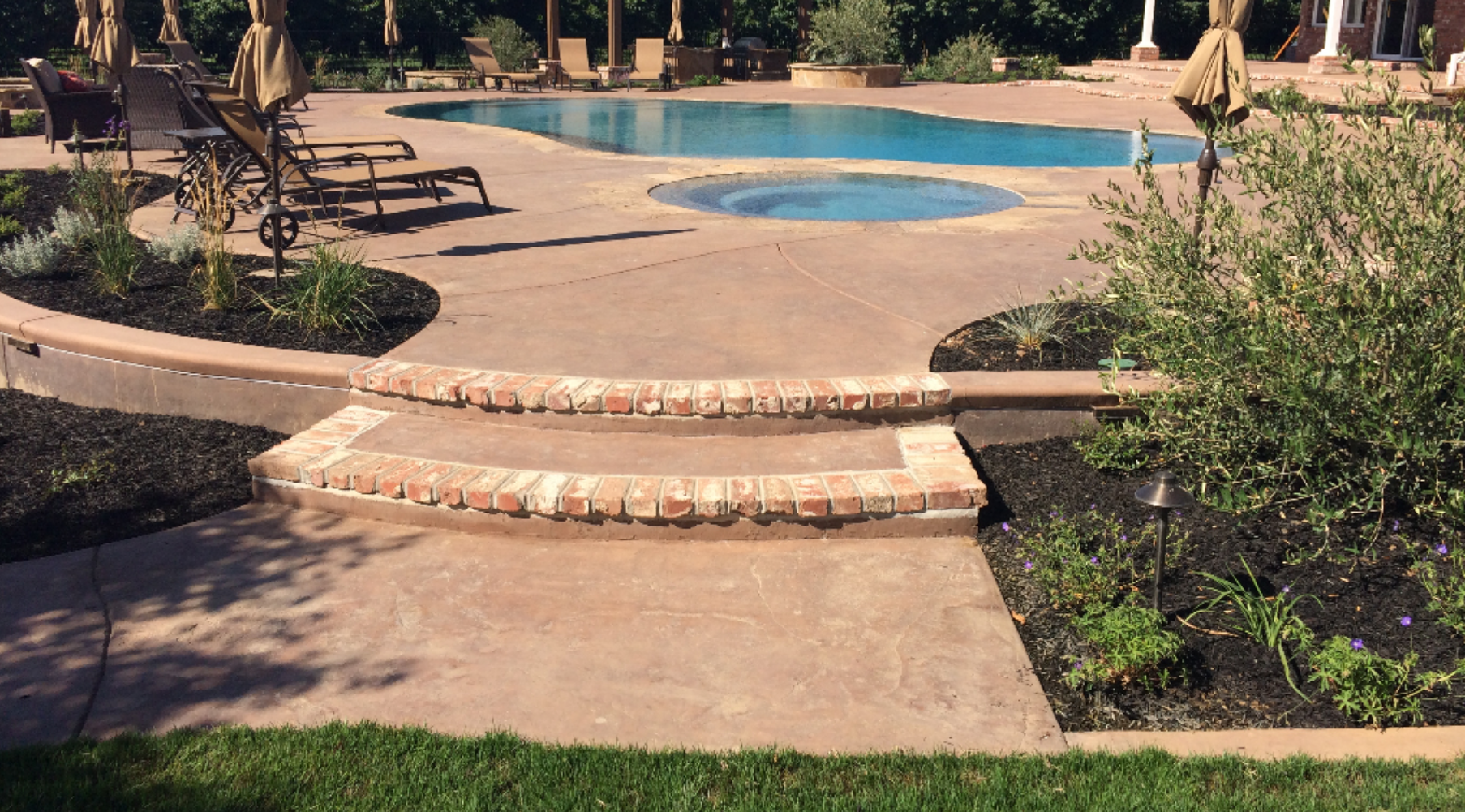 Are you a homeowner with a swimming pool in your property? If yes, then you must be enjoying swimming and other recreational activities by your poolside. Have you given a thought to pool decking? It is an excellent way to add a platform that surrounds the swimming pool and gives you additional living area by your pool. By having a pool deck in the outdoors, you can add a living space where you can relax and throw barbecue parties for your friends.
Cerritos Pro Concrete is the most popular and reliable concrete contractor in the area. We have built stunning pool decks for our clients in high quality at affordable prices.
Looking for the best pool deck contractor in Cerritos? Give us a ring at (562) 262-5777.
Pool Deck that is Smooth and Anti-Slip
As your swimming pool is filled with water and kids keep splashing into the pool every now and then, it is futile to keep the pool deck dry all the time. What you need is to have a deck that is smooth and, at the same time, anti-slip in nature so as to prevent accidental slips and falls. Concrete is one construction material that has proven to be ideal for the construction of a Kool deck.
With concrete, your deck will become slip-resistant and will also remain as strong as it is for decades to come. Also, our skilled masons will ensure that the deck's surface is smooth and yet anti-slip to allow for maximum fun and recreation without any injuries to your loved ones. There is no other construction material that can match concrete when it comes to creating a texture on the surface that is 100% anti-slip.
Concrete Pool Deck is Virtually Maintenance Free!
One issue with a pool deck is its proximity to moisture all the time. Water spills out of the swimming pool and makes the surface of the deck wet. You don't want to create a deck with a material that shows signs of wear and tear with the passage of time. Our skilled craftsmen construct concrete pool decks in such a way that they remain strong and durable.
Once concrete sets after pouring, it becomes solid like a rock, and there is no adverse effect of moisture or water falling upon it. The same concrete can be used to create stairs to access the deck and the swimming pool. Once a concrete pool deck has been installed, the only maintenance effort needed is to wash it with water once in a while simply. It helps in removing all the dust and debris to give you a clean and shining deck for the use of your loved ones.
Are You a Fan of Colorful Pool Decks?
Do you have a dislike for concrete just because it is dark grey in color? If yes, then we have a solution for you in the form of decorative concrete. Created through staining, such concrete is available in vibrant colors to create pool decks that are visually very appealing. You can choose from a large number of colors to have a cool deck that is colorful and looks anything but concrete. Lastly, our experienced craftsmen can come up with mesmerizing designs to stun all your friends in silence. It becomes possible to use stamped concrete and allow the look and feel of any surface you want, such as marble, plywood, timber, and even natural stone.
So, what are you waiting for? Give us, Cerritos Concrete Pro, a call at (562) 262-5777, and get a beautiful and highly functional pool deck around your swimming pool today! Call now and get free estimates.