Cerritos Outdoor Fireplace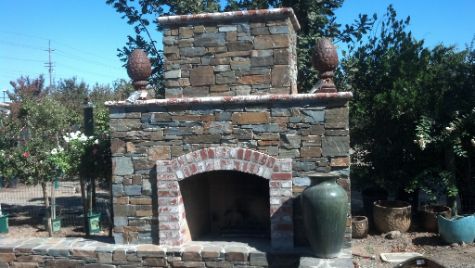 Outdoor living space is incomplete without a beautifully constructed fireplace. A proper outdoor fireplace enhances the visual effects of the outdoor landscape. You can use this fireplace every time you throw a party for your family and friends. Having an outdoor fireplace is an excellent idea if you are looking to add entertainment elements to your outdoor space. 
Proper planning is essential when you are charting out the framework of the outdoor landscape. Every element needs to be correctly and perfectly fit the required space. If you have plans for installing an outdoor fireplace in Cerritos, then we at Cerritos Pro Concrete have many ideas to assist you.
Call us at (562) 262-5777 to explore how many ways you can decorate your outdoor fireplace.
Best Materials for Your Outdoor Fireplace
Who would not love to enjoy a relaxed evening with family or friends gathering around an outdoor fire? If you are driven by the idea of having an outdoor fireplace, then there are certain things to keep in mind. Material is essential for building a fire and selecting a durable, aesthetically pleasing material that is easy to maintain. Some accessible contents used for the construction of the fireplace is listed below:
Stone Outdoor Fireplace
Stone is the visible section for outdoor decorations because it compliments the natural backdrop of the environment. Stone is strong and visually catches attention. It is best suitable if you already have a gem in your outdoor areas like stone driveways, walkways, patios, pool decks, etc. A stone fireplace is the best addition to such outdoors. Stones can further be classified as bluestone, limestone, and rubble stone, which means you a more extensive range. Moreover, if you find stones expensive, go for stone veneers for the same outlook at cheaper rates. The durability does not go down if you choose stone veneers.
Brick Outdoor Fireplace
Brick is a classic material that finds a place in almost all types of constructions because of its flexibility and easy application. This traditional material interconnects well with most decors. Though red is the most popular brick color, you have the option to choose from white, tan, brown, and gray. If you want a material that requires less upkeep and maintenance, then the brick is a suitable choice. Moreover, you can play with your creativity as bricks can be arranged in different patterns.
Concrete Outdoor Fireplace
The preferred choice of modern style homes is concrete. But it is perfect with natural gas or propane instead of wood-burning and does not require a defined chimney. If you want a simple design for a fireplace, then concrete serves the purpose and is durable, affordable, and low-maintenance.
There are so many styles to choose from to improve your outdoor living area by giving your fireplace a decorative look. You can quickly assimilate any fire into your outdoor space for an enhanced appeal.
For a unique addition to your outdoor landscape, hire professionals like Cerritos Pro Concrete. Connect with our professionals at (562) 262-5777 for free estimates.