Cerritos Concrete Countertops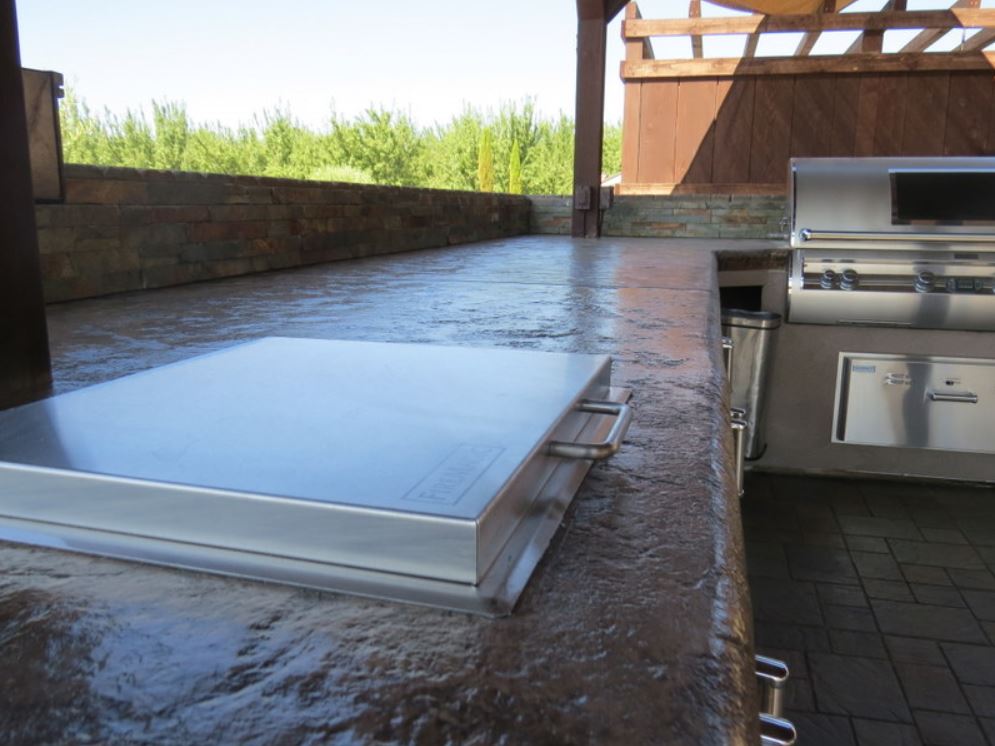 Countertops are an effective way to increase the appearance and flexibility of kitchens. There are numerous materials to construct countertops, and you can get a good range of affordable to luxurious countertops for your kitchen and other spaces. Concrete is a popular countertop material as it fits appropriately in contemporary kitchen designs.
Concrete exudes a modern industrial aesthetic that makes it a popular choice for constructing material. You can pay with concrete the way you want as they can be sealed, stamped, acid-stained to create a unique countertop surface.
Contact us, Cerritos Pro Concrete, at (562) 262-5777 to explore various types of Cerritos concrete countertops design ideas.
Kitchen Countertops
Modern kitchen countertops are now more defined, functional, and colorful that exudes warmth and brilliance. Nowadays, contractors use concrete for remarkably stylish countertops like expensive stones. Concrete countertops look massive even though their thickness is low. This illusion is because of the technique of drop-front edging.
Advantages of Concrete Countertops
The construction of slabs can be done in shops after measuring your kitchen. This reduces the burden as all the mixing, pouring, etc. will be done in shops. Once the slab is constructed, the contractor will install it at the desired place.
Concrete has many qualities, and it can be shaped into the desired form. It can exactly match your kitchen dimensions and can be finished as per requirements. Concrete offers a wide range of color and style options. You do not have to compromise with dull and lifeless colors when you are using concrete. It is a high-end, premium material that fulfills the design goals in cost-effective materials.
Be any dimension and measurement of your kitchen, and concrete can be customized to any kitchen configuration. There is no problem with scratching, and it is heat-resistant. Hence you can put hot pans on the countertops without any worry.
You can mix other materials like glass, shells, stones, etc. with concrete for more appealing effects. The strength and durability of concrete are unquestionable, and you can easily rely on it for years. You can easily clean a concrete surface using standard cleaning agents. The use of concrete in constructing countertops increases real estate values.
Other Countertops Materials
Granite Countertops
A granite countertop immediately catches the attention of onlookers. Granite finds a place in upscale residential apartments, luxury-style rooms, hotels, etc. If you have granite installed in your home, then it has more appeal, and people keep gushing about it. It increases the value of your home and is eco-friendly too.
Granite is super-tough, and the application of a sealer extends the life of granite countertops. Bacteria and fungus will not develop on the granite surface and is easily cleaned.
Stone Countertops
Natural stone countertops are items for a lifetime. They are sturdy, robust, and reliable and can withstand mishaps occurring in day-to-day living. You can cut or slice, spill hot liquids, etc. on the stone surface.
Besides their kitchen usage, countertops are an excellent addition to your outdoor living areas as well. Outdoor cooking areas can be given a decorative touch with the help of granite, concrete, or other stone countertops. Cerritos Pro Concrete will let you know several ways in which you can benefit from countertops.
We are just a call away, just dial (562) 262-5777 to connect with us for all your countertop needs.