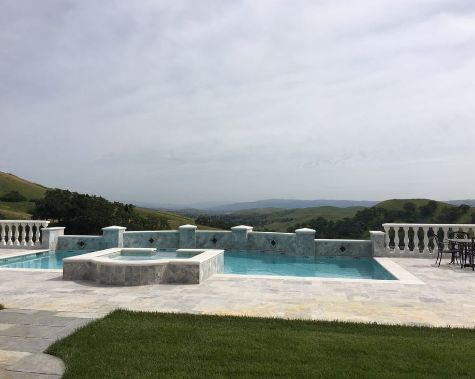 Our phone calls are readily available 24/7 with a competent customer service team to listen to all your queries about our services. Make a direct call at (562) 262-5777 for a free quote on the desired services. Whenever you need a construction project these days, it's hard to select the right company to work with from the many options on the internet. That's why we've made everything more comfortable with a fully-fledged service team committed to excellence. We are already making waves as a reliable concrete and masonry contractor in this region. Now, we've shifted to modern design aspects, with quality materials that replicate the beauty of the natural stone. 
Concrete, stone, brick, landscaping, and hardscaping work has excelled over the years thanks to the exceptional work we've done across Cerritos city and its suburbs. Schools are now shinning. Residential homeowners are happy. And major restaurants couldn't be more delighted to work with us. We boast a swift workforce that will be ready to take on your next construction project as urgent as you want it. Be it patio restructuring, driveway construction, sidewalk installations, or brick paving, and we are the premier concrete and masonry contractors for you. 
Contact us anytime via our phone number (562) 262-5777 for seamless interaction with the experts. You can also request a free estimate by filling out the quote form.
Concrete and Stone Masonry Experts
Every service we offer conforms to high standards of professionalism and versatility we are renowned for. We call ourselves the concrete and stone masonry experts because we know what homeowners love in this region. The kind of experience we hold in the industry has enhanced our knowledge and skills to an extent our artistic prowess is unmatched in the entire area. 
Cerritos Pro Concrete allows you to work with self-motivated experts who are passionate about their craft, and putting a big smile on your face is all they desire to achieve. We are the best option for concrete, brick, and stone masonry projects throughout Cerritos. We also repair and resurfacing services to freshen up your outdoor space.
Call us at (562) 262-5777 for a quick chat on these services and more. 
Contact Us Anytime
Willing to get in touch? We would be delighted to hear from you and also work with you. Feel free to contact our customer service team anytime through (562) 262-5777. If you can't reach us via phone call, you can also communicate to us by filling a form on our page. Our team of concrete and stone masonry pros is here to make a difference. The much-needed difference for your next construction project. We are here to build excellent driveways, patios, sidewalks, fire pits, pool decks, and retaining walls that will stand the test of time. 
For any construction project, longevity matters. And now, we combine durability with excellence to give you the perfect outdoor space you've been longing for. Install stamped concrete driveway to your outdoor space for improved property value in the coming years. How about those minimal repairs and easy maintenance tips to refresh your outdoor patio? Is it bothersome? Worry no more because we're here for that. 
All you have to do is reach out to us via (562) 262-5777 to get free quotes and estimates!