Cerritos Colored Concrete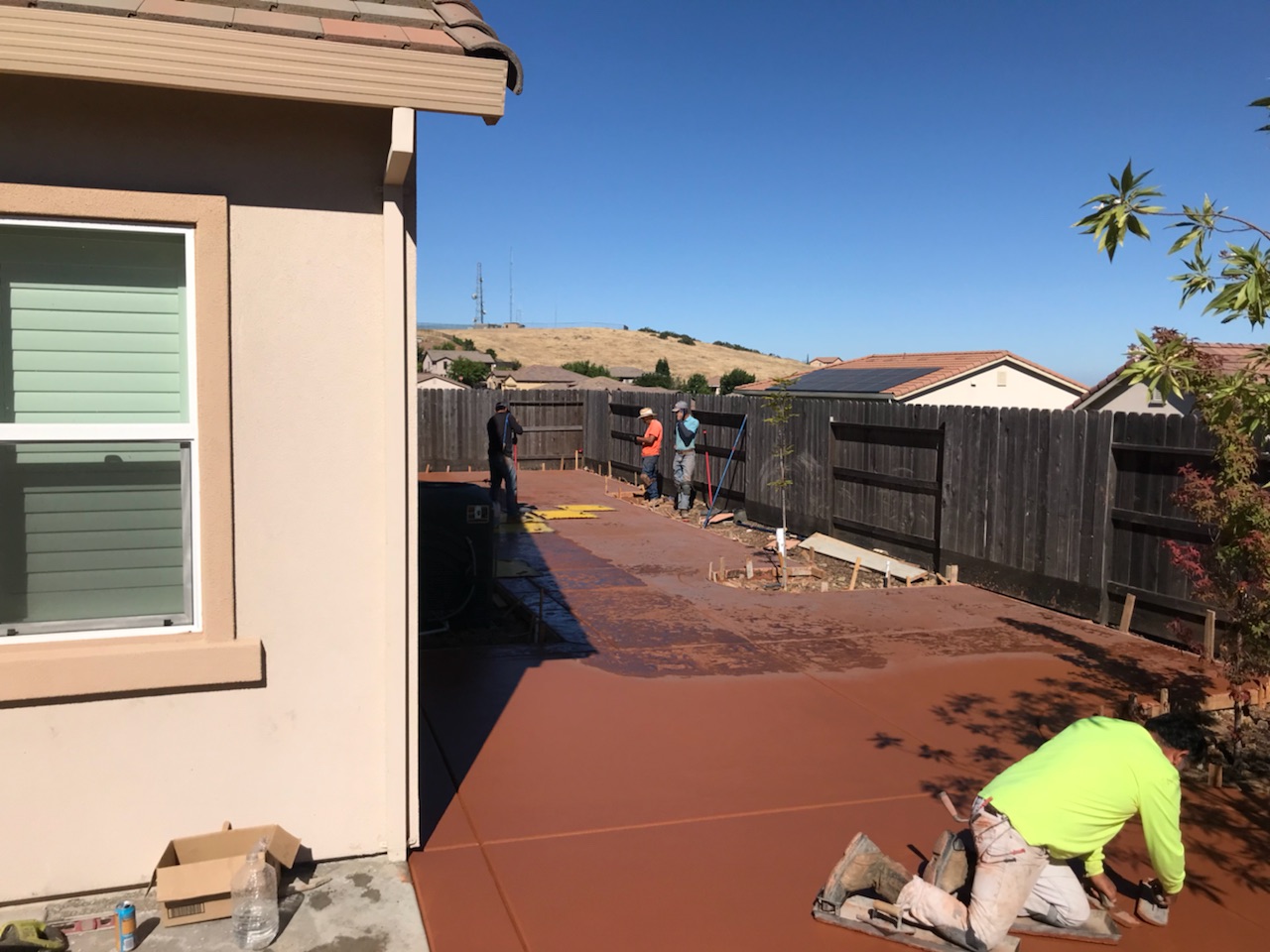 When it comes to getting attractive concrete surfaces, there are several decorative options to go for. One of the biggest reasons why colored concrete is such a popular choice is its uniqueness. This type of concrete has a lot to offer when it comes to improving your concrete surfaces. There is no reason why you shouldn't go for this option if, at all, you value the aesthetics of your home. 
Give us a call at Cerritos Pro Concrete at (562) 262-5777 and improve your concrete surfaces today.
If you are looking for a concrete finisher with experience in integral colors, we have one for you. We have creative finishers who can get you any custom color you want. If he works on your concrete surfaces, they will be as amazing as you wanted them to be. Reach out to us today in Cerritos for the best services that will leave your home appealing.
We are highly experienced when it comes to colored concrete in Cerritos. Our techniques are up to date, and together with our skills and technology, we are the concrete finishers to give a call. From basic earthy colors to amazing blends of your favorite colors, we can give your home a luxurious look. At Cerritos Pro Concrete, we make sure you get personalized services that will quench your thirst for aesthetics. 
Is It the Best Option
This is undoubtedly the best decorative concrete option for all your surfaces. Its benefits cannot be compared with other decorative options—the most obvious reasons why you should go for concrete with colors and beauty. With a creative professional, the list of colors that can be achieved is endless. We have a wide variety of coloring designs that will make your interiors appealing. 
Just reach out to us at (562) 262-5777 and pick a design that works for you.
With this type of decorative concrete, you can be able to imitate the look of several materials like brick and tile. This will greatly help with the aesthetics of your home. Another benefit that comes with coloring your concrete is that you get to spend less. The costs will be higher than that of plain concrete, but you will achieve much in terms of aesthetics. 
Call for creative color finishes today at (562) 262-5777 and get luxurious looking surfaces.
Can Colored Concrete Be Stained
Your colored surfaces can be stained with both acid and water-based stains. However, water-based stains are recommended as they don't react with concrete. Staining your colored surface needs an experienced concrete contractor who will certainly give you perfect results. You can give us a call at Cerritos Pro Concrete if you need a colored surface stained.
You can also have us apply a sealer to protect your concrete surface form damage. Our prices are lower to ensure you get to fully customize your surfaces at a lower cost. We are the concrete contractor to color, stain, and seal your concrete surfaces if you have a small budget. Get in touch with us today at Cerritos Pro Concrete and spend less on concrete projects.
Cost of Colored Concrete
As we said earlier, coloring your concrete is a bit more expensive than plain grey concrete. However, it is still economical as it costs less when compared to other common decorative options. The price can vary depending on how you want us to color your concrete. That's why we recommend that you give us a call at (562) 262-5777 and get a free estimate for your surfaces. This will help you plan and budget properly. You can also get a free quote from our website.
At Cerritos Pro Concrete, we have lower prices for all concrete services. Working with us will help you spend just what you budgeted. Don't work with an incompetent contractor who will cost you when we can help.  
Finishing Colored Concrete with Other Techniques
For more beauty and other purposes, your concrete surfaces can be finished with other techniques after coloring. Some finishing techniques like broom finish can be used to make you colored surfaces non-slip by giving them traction. This is mostly done for surfaces that constantly get wet like decks around pools. If finished this way, chances of slipping and falling are greatly reduced. Reach out to us for finishing and other concrete services.
Some finishing techniques, like sandblasting, will enhance the beauty of your concrete surface by creating unique designs. For other amazing finishes that can make you colored surfaces more appealing, contact us at Cerritos Pro Concrete. We are the contractor you need for concrete services that will give you an appealing home.